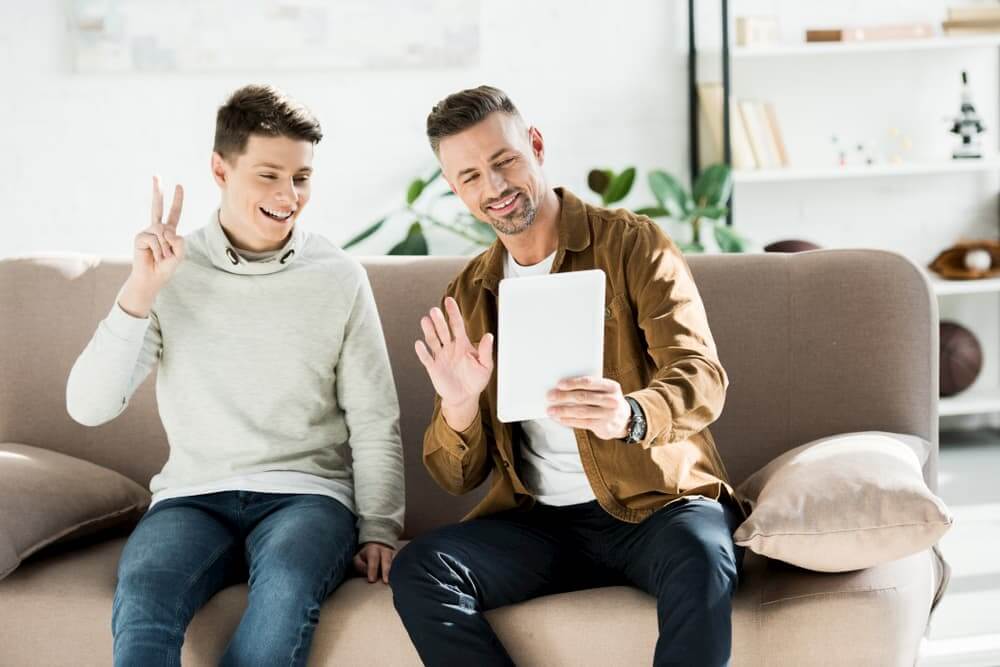 The current epidemic has altered the way we live. The prevalence of COVID-19 has changed how we learn, shop, and, perhaps most importantly, interact with each other. For people of all ages, it's easy to feel isolated in the era of social distancing. Teens may be dealing with feelings of depression as some big events are canceled, such as prom, graduation, and other youth activities. 
Going Through a Pandemic Together
Dealing with this can be difficult, especially as you work through your own social isolation. It's normal to feel overwhelmed by this moment and to feel at a loss as to how to make it better for you and your family. However, with some guidance, you can better understand ways to support the teens and adults in your life.
Understand Your Anxiety
Anxiety can be almost as contagious as COVID-19. When you feel anxious, your family knows, just as you know when they're feeling anxious. This can create a cycle of anxiety when each person's feelings feed into the other's, further escalating these emotions.
This makes it essential that you take care of yourself. Acknowledge your own anxiety and practice ways to help reduce it. If the constant siren of breaking news keeps you glued, know that it's okay to switch channels or turn the television off. If you find yourself endlessly scrolling through social media, turn off your phone and keep it in a different room. When possible, get out of the house for fresh air and exercise. Give yourself a break from all these stressors.
Also, if your family asks you if you're feeling anxious, don't lie. Be honest with them and discuss ways you can help each other reduce the stress load. These conversations help normalize these emotions and can make everyone more aware of ways to destress.
Validate Their Emotions
Just as it's important for you to realize that your anxiety is normal, you should relay this message to your family. If you can tell that they're struggling with anxiety or depression or feelings of isolation, let them know that this is normal and that there's nothing wrong with feeling this way. In fact, it would be abnormal to not have these thoughts or feel down during this time.
It can be easy to label negative emotions as "bad." That is, feeling sad is bad, and feeling happy is good. In reality, though, it's important to feel sadness sometimes, so you can truly appreciate the way happiness warms your spirit. We can't always control our emotions, but we very often can control how we react to them.
When dealing with teen depression, it's also important to work on proactive ways to stop any negative thoughts from spiraling. Instead of trying to tell someone who's depressed that they should be happy, acknowledge that depression is a completely normal response to the situation. Then, work together to discover ways that can help them feel better when they're down.
Make Yourself Available
We live in a confusing time. It seems like every day we hear about some new study or research that indicates we should be doing things one way, then the next new study contradicts that previous advice.  Disinformation on social media can have us question even the most basic facts.
It's likely that the teens or adults in your life will have questions. While no one expects you to become a sudden expert on epidemiology and public policy, you should do enough research from trusted news sources to be able to answer some basic questions. However, if you don't know the answer, it's okay to admit that. When you do, encourage your teen or adult to research the issue with you, so you can both learn together.
Rethink Your Celebrations
The teens and adults in your life are likely missing out on some major life milestones. From graduation to prom, to birthdays, to traditional holidays, it's difficult to celebrate while practicing social distancing. Encourage celebrating these events by getting creative and rethinking alternative ways to celebrate.
Maybe you can't have people over for a birthday, but you can have a mini-parade of their friends, with each car displaying a message and stopping to chat (with masks on, of course). Or do a reverse parade, where you and your teen drive around to their friend's house to drop off a slice of cake.
By turning celebration into a creative task, you can help devote brain power towards new ways of having fun, instead of focusing on today's anxieties. Even with social distancing, there are ways to come together and celebrate life's milestones.
Encourage Virtual Socializing
The rise of social distancing has led to the rise of video conferencing. While there are still quirks and technological hurdles with some of these resources, they allow coworkers, friends, and family members to see and talk to each other over great distances.
While the loss of physical contact with those outside your house can be traumatic, it can be made easier through these new tools. Encourage the teens and adults in your house to video chat with their friends. Call family members together to check in on parents and grandparents or aunts and uncles and cousins. This contact may not only be beneficial for your home, but for those whom you are reaching out to.
Before this epidemic started, you may have set limits as to how often your teen can use video chat with their friends. While they are forced to stay home, it may be time to rethink those limits.
Play Online Games
If there's a video game console in your home, or family members who play video games on their computer or phone, they likely can play online. The rise of game streaming websites also makes it easier for those not in your home to watch and communicate with a member of your household playing a game.
Planning weekly game nights with your family or friends can help keep everyone connected and have some goofy fun. Some of these services may cost money, but some are free or relatively low-cost. Either way, playing online games together is an inexpensive way to have some fun and encourage social interaction.
If you don't have a video game system in your home, this may be time to invest in one. 
Contact Lakeside Academy
At Lakeside Academy, we understand how difficult this moment in history can be for everyone. We've made substantial changes to many of our processes so that we can continue to accept new clients while operating in a safe environment. We remain committed to offering the best we have to help the teens and adults in your life who are struggling.
If someone in your family needs help, don't hesitate to contact us today. We can be reached by phone at (844) 768-8336 or by filling out the form on our website. Please don't hesitate to reach out for help. We're all in this together!
_______
Photo Credit: LightField Studios