WHERE WE CAME FROM
Lakeside Academy was born from the teen program of Minnesota Adult and Teen Challenge. We opened our Buffalo doors in September of 2015. We began with 9 students and have been growing ever since.
The First Teen Challenge Ministry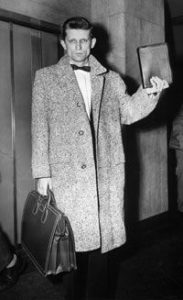 In 1958, David Wilkerson (pictured left) traveled to New York City to work with youth involved in gangs. He found many problems on the streets – prostitution, hard-core drug addiction and gang wars. In order to help these teens, Wilkerson established the first "Teen Challenge Center" in the heart of NYC. Over time, Teen Challenge expanded its programs offering help for teens and adults from all walks of life. Because of his highly effective approach, the Teen Challenge Center received international recognition as one of the world's most successful drug and alcohol programs for both teens and adults. Now there are more than 240 centers across the United States and over 1,000 centers worldwide, making Teen Challenge the largest network of drug and alcohol programs in the world.
History of Teen Challenge – Where We Are Now
Minnesota Adult & Teen Challenge (MnTC)  has been operating since 1983.    In 1993, Rich Scherber (pictured right) was installed as Executive Director and opened the first residential home.  In 1995, MnTC's offered its first program for teenagers.   In 2000, the Minnesota Department of Human Services approved MnTC as a Licensed Chemical Dependency Center.
Over the past 25 years,  MnTC has grown  to offer ten different campuses throughout the State, including adult programs in Minneapolis, Rochester, Brainerd, Duluth, and Lakeside Academy for teen boys in Buffalo, MN.  MnTC now offers a full range of treatment and recovery services including residential and out-patient Rule 31 licensed treatment programs, long-term residential recovery programs, co-occurring mental health services, and a comprehensive aftercare support program.